Our favourite recipes
What keeps us particularly healthy here in Glückstadt is not only the fresh air along the Elbe, but also our original Glückstadt Matjes. The recipe of how to produce original Glückstadt Matjes will continue to be our secret. When it comes to the further preparation of this delicacy, we are, however, willing to share the best ways with you. Just give it a try. Good luck and enjoyt!
Traditional Matjes – Matjes with pears, beans and bacon
Ingredients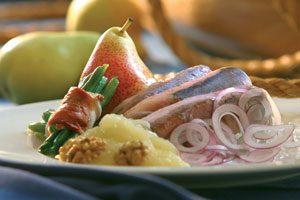 8 Matjes fillets
500 g green beans
2 pears
Banana syrup, Birnengeist (pear brandy)
4 EL Crème fraîche
Cream
8 slices of (streaky) bacon
Salt, pepper, walnut kernels
Preparation
Cook the pears and then steam them with sugar and a sip of lemon juice until they are soft; mash them and add the banana syrup and a bit of pear brandy to taste.
Stir crème fraîche and cream until smooth, season with salt and pepper to taste. Then use to fill the Matjes.
Cook the green beans in salt water, then wrap them in bacon and heat them. Boil some potatoes in their jackets. Fry the streaky bacon and save the dripping for the dip.
Matjes 'a la naturelle' with goat cream cheese
Ingredients
4-5 potatoes
1 red onion
1 apple
4 Matjes
120 g goat cream cheese
Cress or other seasoning
25 g herring caviar, salt, pepper, nutmeg and oil
Preparation
Peel the potatoes and the onion, wash the apple and remove the core. Use a grater to grate the potatoes and the apple and cut the onion into fine slices.
Squeeze the mass/pulp well and add salt, pepper and nutmeg to taste. Heat some oil in a pan, add the mass (form solid potato pancakes, approx. the size of the ball of your thumb) and fry until crisp.
Mix the goat cream cheese and cress. Form the Matjes into a 'loop', place it on the potato pancakes and fill it with goat cream cheese, use the herring caviar as a topping. If you like, you can also decorate your plate in a fitting way.
You can order the fish from our recipes directly from our two Matjes producers, Plotz Spezialitäten and Raumann Matjes, either on site in Glückstadt or online. Nowadays, you can also  buy original Glückstadt Matjes in many grocery stores in Schleswig-Holstein.