Weekly market in Glückstadt
The popular meeting place at the heart of town
"Fancy some more?" The weekly market on the historic market square is open on Tuesdays and Fridays from 8am to 12pm. Here you will find a wide range of fresh flowers and food from the region as well as international specialities.
Dates: Every Tuesday and Friday from 8am to 12pm
(If a market day falls on a public holiday, the market will take place one day earlier.)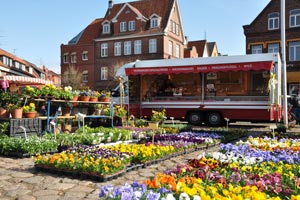 Matjesmeile (Matjes Promenade)
A mecca for flea market enthusiasts
Each year on the second Thursday in June, Glückstadt celebrates what it calls its 'fifth season'. A huge summer festival marks the opening of the Glückstädter Matjeswochen (Matjes season). On the weekend, the entire town centre turns into one gigantic flea market that invites visitors to browse, haggle and chat.